There's lots of things I think of when summer comes along for drinking. Iced tea. Lemonade. Mojitos. Margaritas.
Doesn't mean you can't drink them in other seasons. But summer is a perfect time for drinking.
And that's how I feel about sangria. So here's a rerun of my Spicy Grilled Fruit Sangria.
And here's the recipe.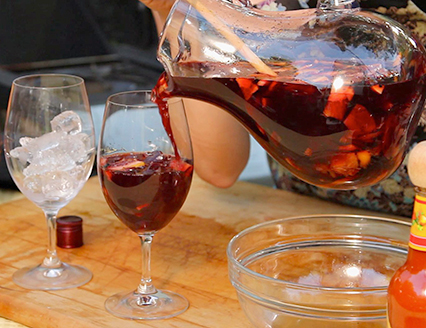 Spicy Grilled Fruit Sangria
750ml bottle of a spicy red wine (Syrah, Shiraz, Tempranillo)
4oz orange liqueur
4oz brandy (plus additional for fruit to soak in)
4oz-5oz. spiced simple syrup (recipe below)
2 cups grilled chopped fruit (see below) macerated in additional brandy and/or liqueur
2-4 dashes of hot sauce ( I prefer Cholula hot sauce)
ice
In large pitcher, pour in the wine, orange liquor, brandy, and spiced simple syrup. Add in the grilled fruit, a few dashes of the hot sauce and refrigerate till cold. To serve, pour sangria over ice in wine glasses and enjoy!
Fruit for Grilling
(These are just suggestions, feel free to enjoy any local and/or seasonal fruits that you like)
Lemons, oranges
Mango
Plum
Pear
Apple

Cut your choice of fruit into slices. Put into oiled grill or greased grill pan. Grill the fruit till it has nice grill marks. Take off of grill and chop into bite sized pieces. Put fruit into bowl with some additional brandy. Let sit for at least 30 minutes and up to overnight in the refrigerator. This will let the fruit soak up the brandy.
Spiced Simple Syrup
1 stick cinnamon
2 full pieces star anise
1/2 tsp. cloves
1/2 tsp. black peppercorns
1/4 tsp. red chili flakes
½ tsp. chopped crystallized ginger
½ c honey
½ c water

Put all the ingredients in a small pot and bring to a boil. Turn heat down and simmer for 5 minutes. Remove from heat and cool. Strain, then use as desired.